Gordan Greenberg and Steve Rosen's new play Dracula: a Comedy of Terrors, now open at New World Stages, is production is replete with playful contradictions. Despite the presence of the word "terrors" in the title, there's nothing too grisly to worry about. After all, the fanged teeth featured in the logo for the show are not dripping with blood, but are wind-up chattering teeth.
The show begins with a prologue, in which four of the five cast members line the stage, each holding copies of Bram Stoker's Dracula. They announce that this play will be significantly shorter than that 418 page novel before tossing the books over their shoulders in a clear sign of what is to come. Those looking for a faithful or classic adaptation have absolutely come to the wrong place.
Five cast members play a dozen named roles, as well as miscellaneous man-eating wolves or drivers as needed. James Daly as Dracula is the only cast member to play just a single character. He has a suitably dramatic entrance, striking a pose in fitted trousers and a see-through vest. This is no quiet, brooding Dracula who might catch the eye of a few people: this is a sexually-charged Dracula who states "I'm highly desirable" before ripping off his vest and flexing his muscles. Daly remains in character even when the dialogue is drowned out by the cheers from the audience.
This production has been advertised as both queer and gender-bending. It is refreshing to see Dracula not just queer-coded, but actually presented as queer. When waxing poetic about the partner he desires, Dracula avoids gendered descriptions, and enthusiastically pursues both Lucy Westfeldt and her fiancé Jonathan Harker. Dracula: a Comedy of Terrors offers to Dracula a bit of what The Rocky Horror Picture Show did for Frankenstein.
In terms of being a gender-bending performance this show succeeds wonderfully with Ellen Harvey's excellent portrayal of Dr. Westfeldt. It's done with no fanfare regarding the gender identity of the performer. Her other main character, Renfield, is largely comic relief that could easily be delivered by someone of any gender.  However, gender-bending fails painfully with Arnie Burton as Mina, the largest role for "Actor 4." Mina refers to herself as awkward and unlucky in love while she is routinely rejected and passed over by everyone else on stage.  Large puppets are brought in to have even more suitors reject Mina. She responds in increasingly provocative ways, miming her offers of sex acts.If the punchline were not meant to be simply that a female character was played by a male actor in a dress, then what was it?  Back in the prologue, Actor One addressed the audience directly with a cheeky "What's up, Hell's Kitchen?" after announcing that the play would include "a hot guy who takes off his shirt." The writers clearly understood that this play is currently running in an area of New York known for its queer bars; I wish they had known to stay away from this outdated cliché that a man in a dress is inherently comical. Where other jokes invite the audience in, this feels alienating to the same queer audience that the show is courting.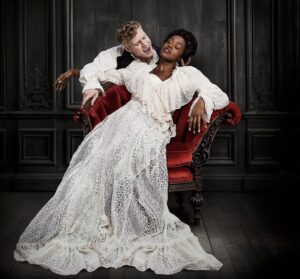 To be fair, this might not always be the case depending upon which cast members are performing. Rather than having an understudy for all five roles, two performers are listed in the swing role. Since Kaitlyn Boyer could go on as Actor 2, Actor 3, or Actor 4 there may be times that the character of Mina–one of Actor 4's characters–would be played by a woman.
As Actor 4, Arnie Burton has a chance to portray Dr. Jean Van Helsing as well as Mina.  This time the jokes aren't around the character being played by a man, but instead Dr. Westfeldt's initial inability to understand how a highly-recommended doctor could be a woman. In this case it's those narrow views and assumptions being mocked, so it seems the authors have once again remembered their audience.
This casting of actors as multiple characters adds to the hilarity of the play. Since Burton plays Mina and Dr. Helsing in a scene that requires them to interact with each other he voices both characters while making use of a life-size puppet on a bed.  That's not the only time that the small cast requires quite a bit of creativity. Costume designer Tristan Raines was skillful in the blending of different styles to give us elegant dresses, seductive nightwear, or no-nonsense suits as needed to not only immediately tell the audience about the character, but they were also designed in a way that allowed for the abundant quick changes as the cast sometimes rapidly switched between characters. The costume for Dr. Westfeldt is a fitted suit, that allows Ellen Harvey to to play the immaculate doctor one second before leaning out from halfway behind the set with a large straight jacket to respond as Renfield as the two characters converse. While the costumes are functional and fashionable, they are not quite as supernatural as Dracula needs, so that becomes a clever joke as well. Dracula can swirl a cape around himself, but not actually fly so he blames it on a wardrobe malfunction before acknowledging that he'll be going with his feet instead.
The fast-paced one-act play revels in fun, silly details beyond its clever script. The sound effects, for example, are right out of an old radio play or Monty Python sketch. You might expect the creak of a closing gate or the dramatic whoosh of a cape, and you'd be right. There are countless other whimsical sonic touches, especially the coach driver's fourth-wall-breaking explanation of some perfectly timed neighing from the horses: "I've trained them to punctuate my lines for dramatic effect." It's a play in the same bloodline as The Thirty-Nine Steps (also starring Arnie Burton), and The Play that Goes Wrong.
The unassuming wooden stage with three unmarked doors is flanked by red neon batwings. The atmospheric fog comes not from machines, but cast members spraying large bottles labeled "fog in a can."  If one focuses on the central door they may imagine a classic Victorian play is about the begin, while taking in the whole stage may cause one to wonder if they have stumbled into a goth dance party.
And it is a party! Dracula: A Comedy of Terrors is a great seasonal play for fans of quick, physical comedy and silly humor.