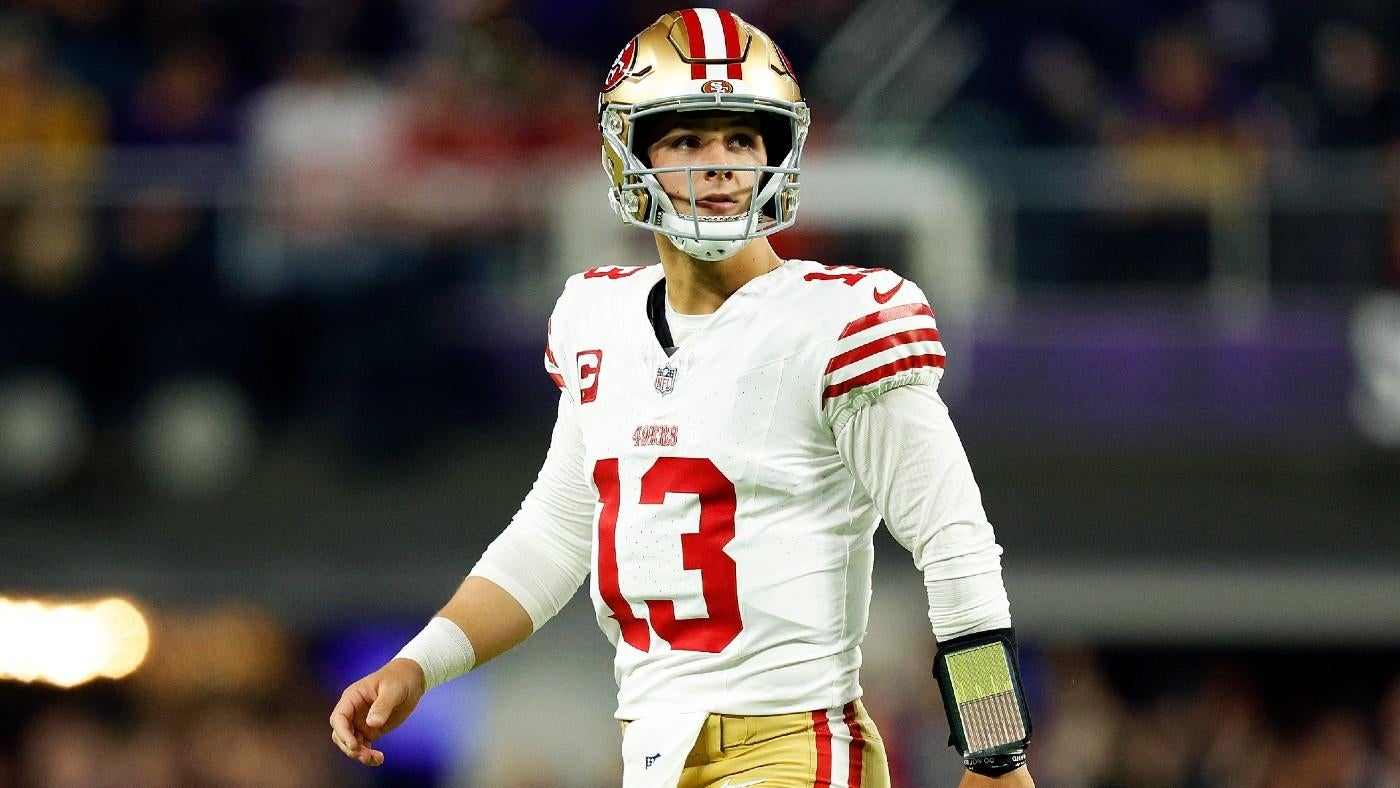 Middling.
That's me right now when it comes to picking NFL games in 2023. Not too good, but not awful either.
Middling.
I went 7-7 against the spread last week in Week 9, with an 8-6 mark straight up. It looked like it might be a good week, but I lost a few tough games, like the Titans failing to cover, the Saints missing a field goal late and the Falcons blowing a late lead to the Vikings.
Oh, well.
The season records are now 65-67-4 ATS and 81-55 straight up. Like I said, middling.
Can I just ask for one thing? Can the end-of-game plays go my way? This week, I think they will.
Thursday, 8:15 p.m. ET (Amazon Prime Video)
This a dog game for a Thursday night, a game featuring two teams going nowhere. The Bears might have Justin Fields back for this one, which will help. Bryce Young is really struggling for Carolina. He will continue that here as the Bears win it. 
Pick: Bears 23, Panthers 17 (Result: Bears 16, Panthers 13)
Sunday, 9:30 a.m. ET (NFL Network, fubo)
The Patriots are reeling and there is talk Bill Belichick could be in trouble. I don't buy it, but that's not a good thing to have hanging over this team. The Colts beat the Panthers last week, thanks to their defense with two touchdowns off picks. The offense didn't do much, but the Patriots don't do much on offense either. This will be a low-scoring game won by the Colts. 
Pick: Colts 20, Patriots 14
If you want a more analytical approach to your NFL picks, then I highly suggest that you check out the SportsLine Projection Model, which has been on fire this year. Check it out if you want to know which side to bet. 
Sunday, 1 p.m. ET (Fox, fubo)
The Ravens are playing as well as anybody, especially on defense, where they are the No. 1 scoring defense. The Browns are third in scoring, but first in yards on defense. So this should be a game won by the team that gets the best quarterback play. I think that's Lamar Jackson over Deshaun Watson. Ravens take it. 
Pick: Ravens 24, Browns 16
Sunday, 1 p.m. ET (CBS, Paramount+)
This is surprisingly a good game with the way these two are playing. We expected that from the Bengals, but the Texans are a surprise team. Both C.J. Stroud and Joe Burrow have been lighting it up. But this is a big challenge for Stroud, who will see a lot of different looks from Lou Anarumo. Burrow will get the best of it. 
Pick: Bengals 29, Texans 20
Sunday, 1 p.m. ET (Fox, fubo)
Both teams are coming off a bye, but they are doing so in different fashion. The Jaguars have won five straight games while the 49ers have lost three straight. San Francisco will be healthier here than before the bye, but I think the Jaguars will win this game late with a Trevor Lawrence drive that leads to a game-winning field goal. 
Pick: Jaguars 24, 49ers 23
New Orleans Saints at Minnesota Vikings (+2.5)
Sunday, 1 p.m. ET (Fox, fubo)
The Vikings pulled off a shocking win when Joshua Dobbs came off the bench to beat Atlanta last week after being traded to the team last Tuesday. Now that he's been there for a little more time, he should be more comfortable. The Saints have won their last two as the offense has come alive some. But they will be challenged here by the Minnesota defense. Look for the Vikings to get another victory with Dobbs. 
Pick: Vikings 25, Saints 20
Sunday, 1 p.m. ET (CBS, Paramount+)
The Packers beat a banged-up Rams team last week, while the Steelers beat the Titans. Neither team looked great in doing so, but the Steelers have extra rest and they are at home. I think the defensive front will create problems for Jordan Love as Pittsburgh wins again. 
Pick: Steelers 23, Packers 17
Sunday, 1 p.m. ET (CBS, Paramount+)
The Titans are on the road for a second straight week as rookie Will Levis takes over as the full-time starting quarterback. The Bucs have lost four straight and their defense has been really bad the last few weeks. That's good for Levis. It carries over here as the Titans win it.
Pick: Titans 23, Bucs 20
Sunday, 4:05 p.m. ET (CBS, Paramount+)
Atlanta's change at quarterback didn't produce a victory last week against the Vikings, but Taylor Heinicke remains the starter. The Cardinals might have Kyler Murray back for this one as he returns after tearing an ACL last year. If he plays, and I think he will, the Cardinals will win it. 
Pick: Cardinals 21, Falcons 14
Sunday, 4:05 p.m. ET (CBS, Paramount+)
The Lions are coming off a bye, while the Chargers are playing on a short week after beating the Jets on Monday night. The Chargers offense has been struggling as of late, which is a concern. But I think at home they will find a way to beat the Lions in this one as Justin Herbert gets it going. 
Pick: Chargers 27, Lions 24
Sunday, 4:25 p.m. ET (Fox, fubo)
The Giants are a disaster at quarterback after losing Daniel Jones for the season, which means Tommy Devito will start. That's not a good way to go play a Dallas team coming off a tough Philadelphia loss. The Cowboys will take it out on the Giants here with a big showing. Dallas wins by 21. 
Pick: Cowboys 31, Giants 10
Sunday, 4:25 p.m. ET (Fox, fubo)
The Commanders are playing consecutive road games after beating the Patriots on Sunday. The Seahawks are coming off a horrible showing against the Ravens on the road. But back home they will play much better. Even so, I think the Commanders will hang around in this one. Seattle will win a tight one. 
Pick: Seahawks 26, Commanders 23
Sunday, 8:20 p.m. ET (NBC, fubo)
The Jets are coming off a terrible offensive performance Monday night against the Chargers, and now must head out west to play a Raiders team that got a bump last week after the firing of Josh McDaniels. The Jets are so limited on offense, which shows up every week. They won't be able to block Maxx Crosby, which leads to turnovers and short fields. Raiders win it. 
Pick: Raiders 21, Jets 10
Monday, 8:15 p.m. ET (ABC/ESPN, fubo)
This is a must-win for the Bills, who have to get their offense going. The Broncos are coming off a bye, but they played well the last time out in beating the Chiefs. This is a tough challenge, though, on the road against a wounded team. I will take the Bills here to rebound with a strong offensive showing. Josh Allen will play faster and looser, which they need. 
Pick: Bills 34, Broncos 17