When our little ones head off for school, they take their first steps in a lifelong journey of learning. Not only will they begin to build foundational skills that will pave the way for academic success, but they'll also learn social-emotional skills like kindness, sharing, empathy, and many more that will contribute to their overall success in life. Some research suggests that social-emotional activities might be the most important work children can do in their early years. In fact, one study found that social-emotional wellness in kindergarten correlated with success up until age 25. Here are some of our favorite social-emotional activities to use with your preschool and kindergarten students.
Teach students to identify their emotions
Identifying and labeling feelings (your own and others') is a valuable life skill that takes lots of practice. These social-emotional activities are not only fun and engaging for little ones, they spark essential conversations that lead to deeper understanding.
1. Read, read, read!
There are TONS of children's books featuring interesting main characters and story lines that teach social-emotional skills. Reading about characters they can relate to, in situations they can relate to, helps young children learn valuable lessons. Here are two book lists to get you started: Picture Books To Teach Students About Kindness and Children's Books for Teaching Social Skills.
2. Sing
Different emotions evoke different feelings in our bodies. Teach your students this song to help them learn to identify what is really going on. Also, find role-play scenarios and reflection questions.
3. Practice with emotions play-dough mats
Learning to read others' emotions is a valuable SEL tool. Children can explore and identify nuances of facial features that are paired with emotions by using play dough to draw faces on these free emotions play-dough mats from The OT Toolbox.
4. Play a monster-emotions match game
Download the free game cards here. This fun and engaging game helps kids learn how to identify emotions in other people. The game begins as students walk around the room making the feeling face that matches their card. As they walk, they look for another student who seems to be demonstrating the same feeling. Once everyone thinks they have found their matching feeling friend, let them check their cards to see if they are right. Play a few rounds to give kids a chance to try out different feelings.
5. Make emotion masks
These masks are a great tool for talking about feelings. And all you need is paper plates (cut in half), craft sticks, tape, and markers. The activity will focus on four emotions: happy, mad, sad, and silly. For each emotion (and each mask), make a face and then ask the class to identify the emotion it represents. Once they correctly identify the emotion, have them use the marker to draw that face on one of the plates. You can use these masks during read-alouds (hold up the mask that shows how the main character is feeling) or during class conversations to reinforce their understanding of what different feelings look like.
6. Start each day with a check-in
This chart is a fun one to help students communicate how they're feeling. Position it next to your classroom door, and have students point to the emoji that most closely matches how they're feeling as they enter. Social-emotional activities like this one help students get in the habit of monitoring their emotions and give you valuable information about your students' moods.
7. Draw helping hands
Encouraging students to think about others can make them realize how much control they have over the feelings of others. Have students trace or draw their own hands and reflect or write what their helpful hands can do for others.
8. Do an emotions sort
Linking Zones of Regulation activities to fun experiences helps kids make connections. For example, this simple Emotions Sorting Game inspired by Disney-Pixar's Inside Out helps kids learn and explore emotions. The game is a printable download available from Mom Endeavors.
9. Play emotions Jenga
Attach a collection of emotion words onto Jenga blocks—for instance, happy, sad, angry, frustrated, etc. You can either write on the blocks with a Sharpie or try these pretty labels from Collective Feelings. One at a time, pull one of the emotion blocks out of the stack. Ask for a volunteer to either tell you the definition of that feeling or share a story about a time they felt that emotion. Talking about emotions in a group, and hearing others' stories, helps kids make lasting connections.
10. Make an emotion spinner
If you're looking for engaging social-emotional activities to teach kids more about identifying their emotions, try these emotion spinners. All you need to make them are paper plates, brads, markers (or paint or crayons or colored pencils), and a large circle punch if you have one. For full directions on how to make and use emotion spinners, check out this blog from Meaningful Mama.
11. Play a round of emotions charades
Prepare a set of cards with emotion words and pictures of what those emotion looks like. Then play a round of emotions charades, which helps preschoolers read nonverbal cues, identify and regulate emotions, and learn how to express emotions in a healthy way, all of which are essential elements of emotional intelligence.
12. Make affirmation bracelets
Set out cups of colored beads. In front of each cup of beads, add a sticky note with a positive affirmation. Teach your students what each affirmation says and means. Give each student a pipe cleaner and help them create a bracelet by threading the beads onto the pipe cleaner. Optional: Each time they pick up a bead, have them say the corresponding positive affirmation out loud.
Teach kids strategies to deal with hard feelings
Being able to identify and label feelings is a great start. Knowing what to do when unsettling feelings come up is the next step. Feelings like anger, sadness, and confusion will undoubtedly arise from time to time in the classroom. Here are a few social-emotional activities to help your students learn how to cope in a safe environment.
13. Teach students to use I-statements
Encourage students to be mindful about how they're feeling by helping them practice how to articulate their thoughts without lashing out at others. Give them starters such as "I feel angry when …," "I feel happy when …," "I feel frustrated when …," etc. Once they are able to articulate their feelings, help them strategize ways to handle their feelings.
14. Use strategy cards
These free downloadable cards offer 23 different strategies (with pictures and words) that kids can use to manage their emotions. Print them out, punch a hole in the corner of each card, and attach them to a ring.
15. Download these free posters
Use these posters to teach kids what to do when they feel their emotions escalating. Once they are familiar with the strategies, post the posters in your calm-down corner for kids to reference as they regroup. Included with the downloads are 30 great calm-down ideas like "I can count to 10," "I can blow a feather," and more.
16. Stomp out dinosaur-size feelings
Read Tony Mitton's charming story Dinosaurumpus aloud to your class. Then, play this easy-to-assemble dinosaur game that encourages kids to roar, dance, and stomp out their emotions.
17. Make calm-down jars
Make these mesmerizing calm-down jars for your classroom using just water, oil, and food coloring. Add glitter for a little extra pizzazz. When students are feeling overwhelmed or upset, give them a few minutes to focus on the jar as they turn it upside down and back. Focusing on the movement and colors will help students calm down so they can get back to work.
18. Put together a calm-down kit
Stock a plastic bin with tools to help little ones manage their emotions. Include things such as strategy cards, squeeze balls, calm-down bottles, putty, and breathing exercises. For more ideas, check out this awesome list of 40+ Things To Put in Your Calm-Down Kit.
19. Set up a calm-down corner in your classroom
Kids have a lot of feelings and emotions to process throughout the day. Sometimes it's all too much, and the result can be bad behavior. A calm-down corner gives kids a place to recenter and refocus so they can join the learning again. Check out this article to learn everything you need to know about setting up a calm-down corner.
20. Teach yoga poses …
Teach your students simple yoga poses to help them get control of their bodies when emotions are running high. For best results, pair poses with deep-breathing techniques. The printable set comes with 50 different yoga poses (including simple descriptions) and suggested sequences of poses to use.
21. … and breathing techniques
Deep breathing reduces stress and anxiety and helps kids learn to manage their emotions. Check out this source for lots of fun ideas for building breathing breaks into your day.
22. Teach coping strategies
In any social situation, conflict is bound to occur. That's why teaching kids how to peacefully solve problems is essential. Equip your students with the tools they need to manage uncomfortable situations with these coping strategies and free social problem-solving poster set.
23. Tell stories that help kids learn strategies
Conflicts happen, no matter how old we are. The key is learning strategies to help solve conflicts peacefully, and it's never too early to start! These picture books encourage solving disagreements through communication, compromise, harmony, collaboration, and forgiveness.
24. Make a rainbow road
Label six colored sheets of paper with statements like "I feel ___ (sad, happy, angry, frustrated, etc.) when ____." Tape the sheets on the floor to create a rainbow road. To play, have a student roll a die, then count and walk to that number sheet. Help them read their statement and then have them fill in the last blank.
Build in lots of opportunities for kids to work on social skills
Like everyone, little ones learn best by doing. Give them lots of opportunities to interact with peers one-on-one, in small groups, and as part of a whole class, ideally with as little adult interference as possible. As they play during social-emotional activities, they'll learn to navigate among other kids who may have different styles and opinions. Activities like creative play, building projects, board games, and partner reading are great tools to reveal kids' strengths and challenges as they begin to figure out how to manage school in the best way for themselves.
25. Do your homework
As children start learning more about their feelings and emotions, their social skills start to blossom. This social skills checklist is an amazing resource that describes in detail the social skills that children learn in their preschool years. Read the article for more SEL activities for preschoolers from The OT Toolbox.
26. Create a culture of kindness
Create a culture of kindness in your classroom. Read your students the story Have You Filled a Bucket Today? A Guide to Daily Happiness for Kids by Carol McCloud. Then spread the love with a few of these activities.
27. Make kindness trees
Looking for social-emotional activities that provide an opportunity to talk about why being kind is important and how we can practice kindness every day? Draw a large tree trunk on a sheet of chart paper. Then pass out different-colored leaves made from construction paper and ask each student to write an act of kindness they can do on their leaf. After they've finished writing their kind acts, help them tape their leaf to the tree trunk as reminders of how they can show kindness and respect for others.
28. Engage in compliment circles
If you need social-emotional activities that don't require any prep work, hold compliment circles in class. They take very little time but yield powerful results. Create an environment of respect and kindness with this simple activity that teaches kids how to give and receive compliments. Read more here.
29. Play games
Playing interactive games with your students is a great way to start conversations about their feelings. It can make the conversation more centered around fun and less stressful. Read this article from The Art of Education for more SEL tips and a list of 10 Engaging Games To Play That Explore SEL.
30. Read about and practice sharing
In Mo Willems' adorable book Should I Share My Ice Cream?, Gerald the elephant has to make a quick decision about whether to share his ice cream cone with his best friend, Piggy. Read the story to your class and have a conversation about sharing.
Then try this fun game. Make "waffle" cones out of rolled-up sheets of construction paper, then have students practice passing their "ice cream" to a friend. Not only will students learn cooperation, but this game is also a great opportunity to use polite language such as "please" and "thank you."
31. Teach students how to partner share
There are many strategies that teach kids to work collaboratively with a partner. And it's important with little ones to teach these skills explicitly. Read this step-by-step tutorial written by kindergarten teacher Sarah Casady, How To Get Your Students Talking. Also, check out 10 Alternatives to Think-Pair-Share.
32. Use conversation starters
Get the conversation started with questions like "What is your favorite thing to eat at lunch?," "What was the funniest thing that happened to you today?," and the like. Be sure the questions are open-ended to avoid getting short yes or no answers. Here are 20 conversation starters from The Early Childhood Academy to get you started.
33. Hone listening skills
Learning to listen, not only to themselves but to one another, is a critical skill for preschoolers. Set aside time each day to sit quietly with your students and listen for sounds in and around the classroom for increasing lengths of time. Or ring a chime and ask students to see how long they can hear the sound it makes. Being able to signal your students when it is time to listen, and having them respond appropriately, is critical for creating a classroom environment that supports learning.
34. Play listening games
Gameplay is one of the best ways to engage young learners. Try some of these listening games, like Simon Says, Telephone, Freeze Dance and more.
35. Rehearse with role-play
Role-play is a wonderful way to teach your preschoolers and kindergartners social behaviors, rules, and expectations. Rehearsing these skills in a safe space, with a teacher's guidance, helps them learn social norms.
36. Play with puppets
According to Tanja Mcilroy, founder of Empowered Parents, playing with puppets is one of the most educational things you can do with your students. A puppet can be the voice used to correct classroom behavior and teach social skills. Many children will find this less intimidating and more playful than instruction coming from an adult. For more tips, check out The Amazing Benefits of Playing With Puppets in Early Childhood.
Learn about friendship
Learning to make friends is one of the most valuable skills we can teach our preschoolers and kindergartners. Friendships require a plethora of social skills such sharing, compassion, compromise, and honesty.
37. Watch friendship videos
Learning to get along with others takes a lot of practice. Here are our favorite friendship videos that use compassion, wisdom, and humor to tackle what it means to be a good friend. Use them to jump-start conversations with your students as you build your classroom community.
38. Read books about friendship
Friendships are one of the most important parts of childhood—and school. Classroom conversations about making new friends, supporting and appreciating friends, and navigating friendship challenges are always in season, and there's no better way to launch them than with a good book. Looking for books you can use for social-emotional activities? Here's a good place to start: Children's Books About Friendship That Give Us All the Feels.
39. Sing songs about friendship
Music is an amazing way to help your students feel connected and understood. And songs about friendship can definitely foster a sense of community in the classroom. Here, we've compiled 50 Fantastic Songs About Friendship for your students to enjoy and bond over.
40. Read poems about friendship
Poetry often speaks to our hearts in a way unlike any other form. And making friends is one of the greatest gifts in life. So why not combine the two and teach your students in a way they can really connect with? Here, we share 30 Heartwarming Poems About Friendship To Share With Students.
41. Make lots of time for friendship-building activities
Here is a list of 25 ideas to get you started.
Practice mindfulness in the classroom
Mindfulness is defined as a mental state achieved by focusing one's awareness on the present moment, while calmly acknowledging and accepting one's feelings, thoughts, and bodily sensations. Mindfulness techniques help students handle big emotions (in themselves and others) and cultivate a sense of peace and calm.
42. Introduce mindfulness with children's books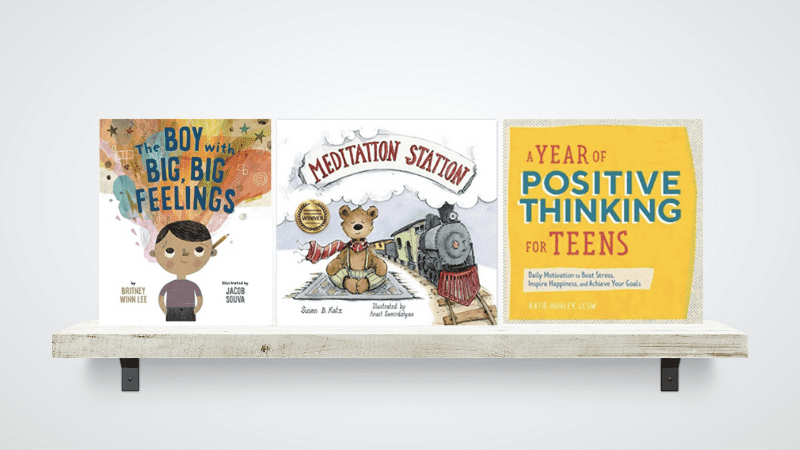 Source: 15 Books To Teach Kids About Mindfulness
If you're looking for social-emotional activities that incorporate reading, there are dozens of brilliant books that teach the lesson of mindfulness for preschoolers. A couple of our favorites, just for little ones, are Peaceful Panda and I Am the Jungle.
43. Make gratitude rocks
Taking time to go inside and think about things you are grateful for is a powerful life skill. For this activity, bring a collection of rocks to class for your students to choose from. Then, using paint, markers, or crayons, give them time to decorate their rocks. Ask your students to take a few minutes and think about something they are grateful for and narrow it down to just one word. Have them write their word with Sharpie on their rock—be sure to give them help if they need it. When everyone is done with their rock, make time for those who are comfortable doing so to share their rock and explain it to their classmates.
44. Go on a nature walk
Take your little ones outside to indulge their five senses. Explore the changing color of leaves, different leaf shapes, pine cones, and more. Listen for birds and other critters. Lie down on the grass and feel the earth beneath you as you look up at the blue sky.
45. Practice progressive muscle relaxation
Most of us, including kids, aren't always aware of the muscles in our body and how they feel or move. But we can all carry a lot of emotions in our physical bodies. Progressive muscle relaxation (PMR) is a coping skill and relaxation exercise that can help us calm our body and mind by slowly and progressively tensing and relaxing our muscles, one group at a time.
46. Listen to music
It's not too hard to tell when young students need a break or need a few minutes to recharge. And you know the old saying "Music soothes the savage beast." Why not pop on this soothing video with gentle guitar music playing in the background for a few minutes? Music makes for fantastic social-emotional activities during snack time, as a brain break, or during transition times.
47. Play in water
Nothing is more calming to the nervous system than water. Set up a water table in your classroom and let students engage in free cooperative play. Include your water table as a station at center time.
48. Play in sand
Just like the water table, a sand table offers the basis for many social-emotional activities to rotate into your stations. Learn about the benefits and try some of these fun ideas from The Early Childhood Academy.
49. Make time for art
There are SO many reasons kids need to paint. Painting is one of the best social-emotional activities because most people find peace and relaxation in art. It focuses their minds and helps them look at the world around them in a much more engaged way.
50. Listen to a rain stick
There's just something so soothing about the sound of a rain stick. Help your students turn their thought inward by taking a few moments to stop and listen. Turn down the lights and invite your preschoolers or kindergartners to lie down on the rug and close their eyes. Turn the rain stick upside down and back again for a few minutes, leaving a few seconds of silence between each rotation.
If you like these social-emotional activities and want more articles like this, be sure to subscribe to our newsletters.
Plus, check out 57 Simple Mindfulness Activities for Kids.